Intrinzik - Proantagonist/UGH76 Pre-Order Package 2
$

39.99 -

$

49.99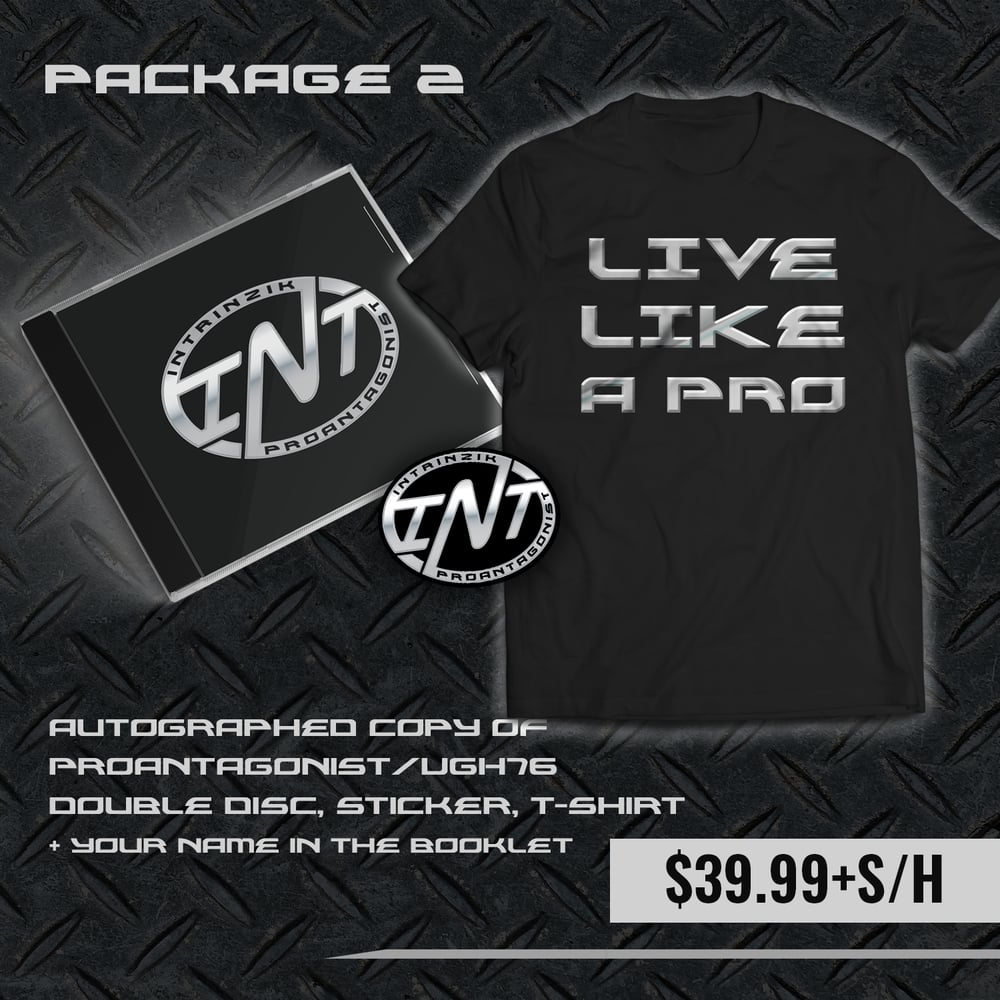 Get an autographed copy of Intrinzik's PROANTAGONIST/UGH76 CD, double sided "Live Like a Pro" t-shirt and a sticker! IT IS TOO LATE FOR SHOUT OUTS AND NAMES IN INSERT! CD IS AT PRESS!
All pre-orders will received a digital copy of the album before the release. There is no release date yet.
T-Shirts ship immediately!
Proantagonist Track List:
1. Enemy of the Statist
2. Proantagonist
3. Vampiress
4. Remote Control Robots
5. Goblinphase
6. Slowly Killing Myself
7. La Jolla
bonus tracks
8. VOID - Anthem for the Dead [Stir Crazy]
9. 3rd Tripp (feat. Intrinzik & VOID) - Prosprecution [Stir Crazy]
10. Tony Loco - Life [Stir Crazy]
11. J Hendo - I.O.W.A. [Stir Crazy]
12. Jigster (feat. Intrinzik) - Still Doing My Things
13. N3kr0t!k - Goner [Stir Crazy]
14. The H.O.F (feat. Upper Lower Class) - HWY666 [Stir Crazy]
15. The H.O.F - Wind Blows [Kontactrecords]
16. The H.O.F - I Am The Hydra [Stir Crazy]
17. The H.O.F - Wicked Girl [Stir Crazy]
18. PXANTXM (feat. D3nny D) - Travesty
19. Russell Silver - The Kids [Stir Crazy]
20. Beek The Geek (feat. Intrinzik) - Can't Stand the Rain [Stir Crazy]
21. The Uncanny - Dark Entity [PL12 & Intrinzik]
Names in Insert:
Alex Wallace
Brad Saunders
Brandon Moran
Frank McKinney
Jeffrey Neth
Jesse DeVries
Joshua Philley
Mick Monahan
Saint Nein
Sharee Alderson
Simon Thomalla
Trev Moeller
Whiskey Friday
Names in Insert:
Alex Wallace
Brad Saunders
Brandon Moran
Frank McKinney
Jeffrey Neth
Jesse DeVries
Joshua Philley
Mick Monahan
Sharee Alderson
Simon Thomalla
Trev Moeller
Whiskey Friday